RECENT EXHIBITIONS

PUSHING BUTTONS - Art Quilts by Jane Burch Cochran can be purchased on

blurb.com

or

amazon.com

.

2016

American Embassy in Katmandu, Nepal (2 quilts for 2 years)

2015

QUILT VISIONS (8 American quiltmakers ) - Oulun taidemuseo - Oulu, Finland

2015

STITCHES - contemporary fiber, Mercyhurst University, Erie, PA

2015

SOUTHERN ACCENTS, FL Institute of Technology, Melbourne, FL

You can see Jane's quilts that are for sale on The Art of the Quilt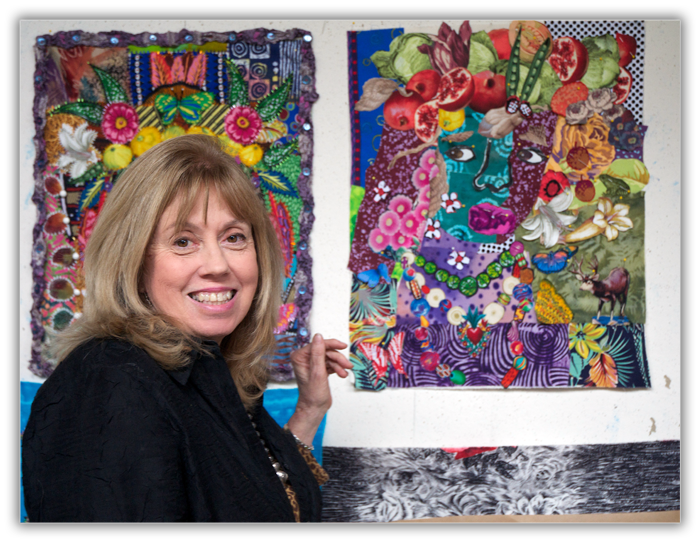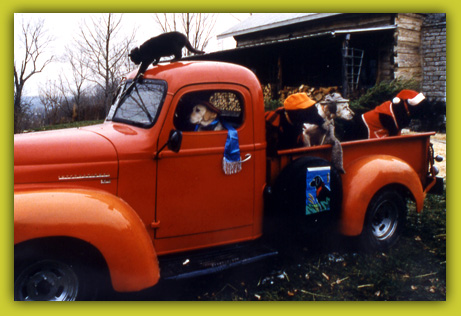 Jane lives with her husband, Randy, currently two dogs and two cats on 40 acres just 1/2 mile from the busy "town" of Rabbit Hash, KY. "My mother never knew why I lived in the country because I was such a city girl. Having lived in rural KY for almost 30 years I guess that is no longer true." The view from their cabin porch includes part of the Ohio River and, in the winter, the skyline of Rising Sun, IN. Jane and Randy spend most of the summer in Pray, Montana in Paradise Valley only an hour from Yellowstone National Park.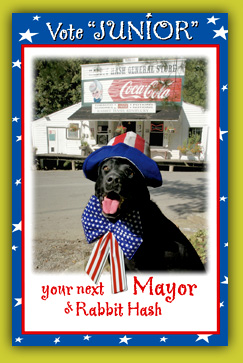 JANE'S DOG JUNIOR BECOMES MAYOR OF RABBIT HASH
Rabbit Hash is known for electing dogs for Mayor. To help preserve the Rabbit Hash General Store built in 1831 and three other wooden buildings which make up downtown Rabbit Hash, fundraiser "elections" are held. The candidate with the most votes win and every vote costs a dollar. Jane and Randy's black lab, Junior, became the Mayor of Rabbit Hash in 2004 serving until 2008.
Mayor Junior passed away just two days shy of his 13th birthday, on his own at home. He is buried in our woods by his parents. He lived a long and happy life and, for an aging childless couple (Randy and I), he was our "A student"
CBS Sunday Morning did a segment on our election. You can still watch CNNís coverage of it on YouTube as well. For more information about Rabbit Hash Mayoral elections, visit the Rabbit Hash Historical Society and Rabbit Hash General Store.
"THE DOG WHO WOULD BE MAYOR" QUILT IN FINLAND EXHIBITION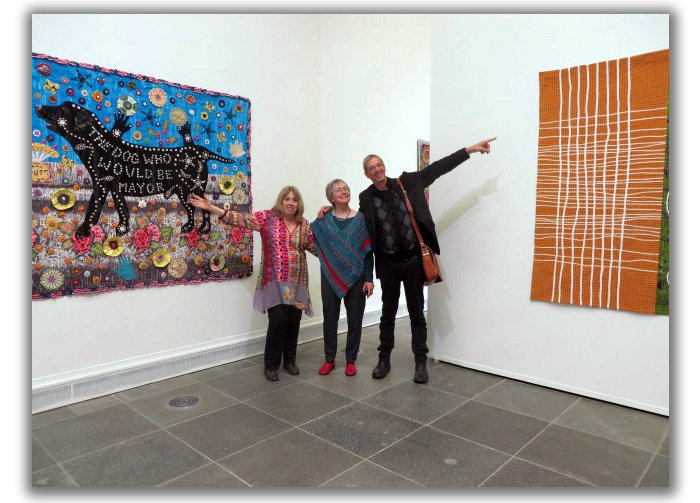 Jane with Judith Lazalere and Joe Cunningham at Museum in Oulu, Finland 2015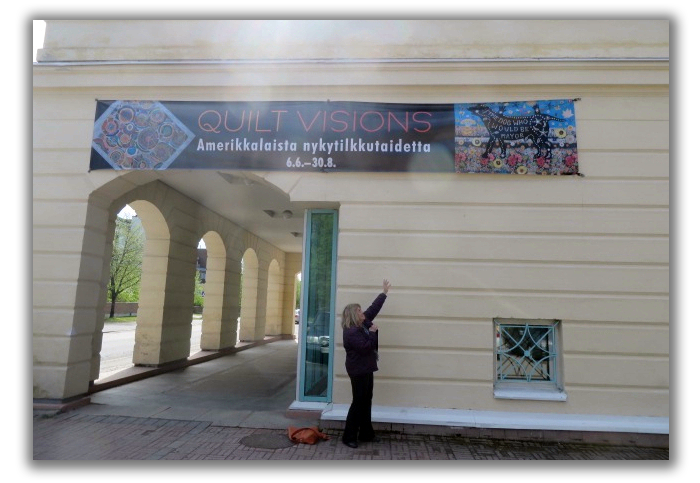 Jane outside the Museum in Finland with the banner that includes her quilt.